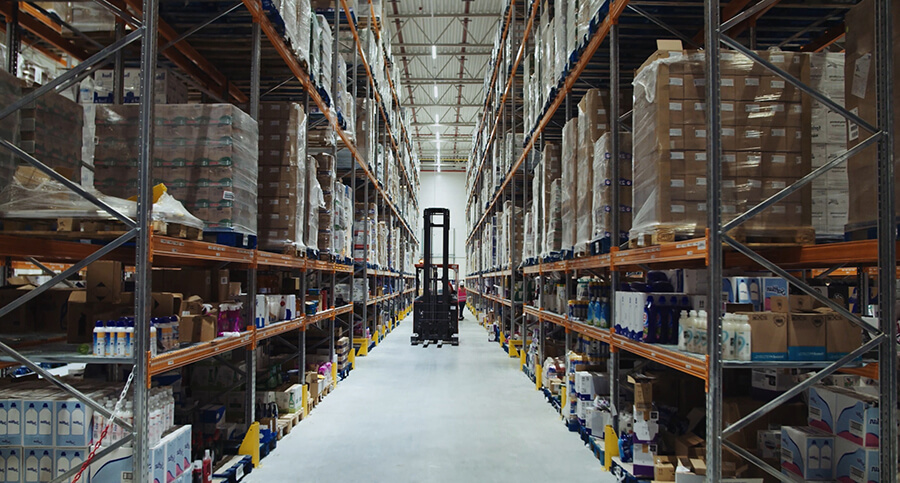 More effective logistics with

InPost Fulfillment!

End-to-end process
handling for e-commerce with
the best carrier on the market!
We don't want to brag,
but
94 %
of InPost
customers
choose the Parcel Locker as a delivery method.
InPost has also the best rated couriers on the market.
Source: TNS Kantor survey, May 2023.
Orders
placed by 8:00 PM
reach the addressees
the next day.
As we know, time is money.
InPost Fulfillment
comprehensively handles orders for you so that you have the time to expand your own business.
Integration
And off we go! We integrate with your shop's IT systems to see the incoming orders in real time. We also update the inventory on ongoing basis.
Storing
We receive your goods into inventory and we store them as you need and as the product specification requires.
Packaging
Orders placed in your shop by 8:00 PM are shipped the very same day. We handle shipping personalization and packaging as you instruct. Your customers will be delighted!
Issued for delivery
Thanks to integration with InPost Fulfillment you can obtain preference rates for delivery to Parcel Lockers and by InPost Courier. We can forward your shipments to be delivered by other carriers.
Delivery
We deliver to Parcel Lockers and by the Courier straight to your customer. Admittedly, it is the most convenient delivery method.
Returns
We also handle returns to your shop as efficiently as everything is done at InPost Fulfillment, so don't worry about the returns.
At each stage of the process,
you have full control over your goods.
Watch the film and see for yourself how InPost Fulfillment operates in practice. Check the journey of your online shop's products from InPost warehouse to the customer. It is so simple!
How do you benefit from
InPost Fulfillment?
Time
For a good cooperation start we give you time. You don't have to handle the warehouse, orders or recruitment. InPost will also help you taking inventory, which minimizes shipping delay. The time you save you can devote to business expansion or… however you like. After all, it is your own time!
Fixed to variable costs
You don't maintain a warehouse and you do not employ warehouse staff. Both these challenges are on our side. We buy packages and fillers for you at attractive prices. This is how you can offer a better price for the products at your shop.
Savings
By offering a delivery by InPost (Courier, Parcel Lockers), you can save on shipments. The more you send, the less you pay – it's sheer profit!
Faster delivery
A lightning is a tortoise if compared with us! You can offer next day delivery for orders placed by 8:00 PM. Such a convenience directly improves the customers' satisfaction and loyalty. It also improves your mood.
Fewer returns
At InPost Fulfillment we know that the effectiveness of picking translates into fewer returns. Thanks to us, you can reduce the number of parcels returned even by 10%. When it comes to returns, we go for "no twists and turns"!
Extra services
Bringing your products to comply with EU market by placing new language labels, leaflets or other forms of sampling are some of the extra services you can commission to us.
Dedicated Customer Advisor
It's easy to get lost in the abundance of benefits, but don't be afraid. With InPost Fulfillment, you get the support from a professional Customer Advisor. Rumour has it that Mat himself will be your Customer Advisor!
Ecology
We are friends with ecology! By opting for InPost Fulfillment, you contribute to environment protection. A growing fleet of electric cars, proximity of logistic centres and sorting facilities are some of our ecological solutions.
Orders
placed by 8:00 PM
reach
the addressees the next day.
It's real time, not a promise.
As many as
85
%
of customers
emphasize that an immediate delivery would encourage them to shop more frequently. All that remains is to sell!
Source: "E-commerce in Poland 2021 as viewed by the internauts" – a survey by Gemius.
The InPost brand has the highest NPS, or Customer Satisfaction and Loyalty Index, of all courier brands surveyed in the market. We are number 1 in logistics you can trust us.
Source: TNS Kantar survey, May 2023.
Do you know that

almost
40
%
of orders
are placed between 2:00 PM and 8:00 PM ? Go for InPost Fulfillment and build your advantage.
Source: InPost
Contact form
If your company sends at least 1000 orders per month, fill out this form. Our Customer Service Consultant will contact you and show you the advantages offered by InPost Fulfillment.
Broaden your knowledge of
logistics & e-commerce
Discover the main industries,
we are active in